We have too many part numbers! SKU Rationalization to the rescue.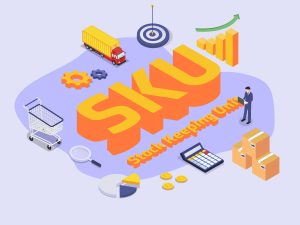 by Don Lindsey
After an organization has been doing business for several years, it tends to multiply things in its ERP framework. As raw materials and intermediate subassemblies expand, there is also a duplication of item numbers that creep into the system. Mergers and acquisitions can also contribute to this SKU (stock-keeping units) glut.
It can be a challenge to determine which products to continue selling and which items to discontinue, but most businesses need to face it. The SKU Rationalization process will help you find a balance between too many and too few. Before cutting your product catalog, there are many elements to consider, so the SKU Rationalization process should help find a balance between too many and too few SKUs and give you a much healthier company.
So, What is SKU Rationalization?
SKU rationalization eliminates underperforming or obsolete SKUs from the product catalog and ERP system data. This process evaluates each product's operational cost, marketability, and profitability. It helps to optimize your inventory and ordering process and increases the overall health of your company.
What are the Causes of SKU Glut?
Companies continually add new SKUs to their product mix without much thought for sustainability. During the SKU rationalization process, it is essential to remember that you are not just eliminating SKUs based on which sell worse than others. For example, the sales team might want an extensive product mix to appeal to more customers. While Operations wants to reduce the number of SKUs to control costs, improve efficiency and minimize inventory. SKU Rationalization needs to use the data to analyze which products to keep.
What are the Benefits of SKU Rationalization?
Here are some of the benefits SKU Rationalization can offer:
Inventory cost reduction. An SKU Rationalization project can limit your stock. Less stock helps with cash flow, space allotment, and spending resources on merchandise that brings a better return.
Warehouse organization. The more items in your warehouse, the harder it is to control your inventory. Minimizing your SKUs is good for your warehouse management. Everything is more efficient in your warehouse when you have fewer items to manage.
More Cash Available. You can make more effective use of the reserve funds and improve income from your SKU Rationalization project. For instance, you can beef up your advertising plan or put resources into innovative research.

Before starting the SKU Rationalization process, you should know the issues that can derail it. Because this project affects the entire organization (sales, operations, inventory, and purchasing), all stakeholders should understand the process.
There are those in every company who contend, "It has always been that way," and don't think they need to cull items from Inventory or catalogs. You will have to overcome these negative attitudes.
Additional issues that can derail your project include:
Lack of expertise or the ability to locate or consult with an expert
Incorrect allocation methods – several methods need to be understood and data loaded to be analyzed
Incomplete or missing data
Poorly designed or implemented IT support
Difficulty in quantifying departmental activity
Complexity of analysis
Time required to perform the analysis
Steps in the SKU Rationalization process
Step 1. Understand The Markets you Serve
Check whether all of your offerings and their unique selling points align with the needs of your target market. These might be completely different than when you first introduced the product.
Ask yourself what industry or companies are your target markets. What are their needs regarding your products? Which problems do your products intend to solve for them? What kind of products most interest your customers?
If products do not sell well and seem out of place when you consider your targets, discontinuing those products is a clear sign. You should continue with the next step for products that align with your target market's needs and wants.
Step 2. Consider your Competitors
Think about what are your competitors are doing in the market. Are their marketing efforts attracting your customers away? Have they lowered prices? The issue is not in your products in these cases, so eliminating them may be unnecessary. Instead, concentrate on aligning your product to your customer's needs, developing more vigorous marketing efforts, or revisiting your pricing policy.
Once you understand the market, you need to analyze your markets by SKU before weeding your catalog.
Consider what marketing efforts you are putting into your SKU population. While one product might show good performance under the current practice, it may be that your marketing budget is skewing the results of your data. Or, perhaps, the product has no market value. If a product is underperforming, it may be because it doesn't have a marketing strategy behind it.
Step 3. Identify Product Cannibalization
You should Identify any Product Cannibalization that has occurred over the years. You may have similar products in your catalog competing for business in the same market.
You may think that making minor modifications to a product and adding it into your product mix can help your sales, but sometimes, it can lead to higher costs and lower sales for all products involved.
Analyzing transaction, history and sales and cost transaction data will help you identify product cannibalization.
Step 4. Additional Analysis
You will need to do additional analysis for those items you have identified that will no longer satisfy your market. There are several aspects to this analysis, so you will want to consider many ERP tools when analyzing your inventory for SKU rationalization.
Calculate the consumption value with this formula: units sold x cost per unit. You can use transaction by item and sales order gross margins along with customer sales orders to help with this calculation.
You must also consider how you estimate your Customer Demand and use forecast maintenance and simulation tools in your ERP system to develop your forecast. Maybe a simple change in your forecasting method will yield important data.
Additional considerations should include Production Costs. What is the actual current cost of producing any items identified for elimination? Product cost roll-up, Item Cost (Current vs. Standard), postproduction order usage variances, and production order WIP cost report can greatly assist with the cost of production.
The standard cost process usually determines your inventory cost. You will want to look specifically at how you have updated your purchase cost and run, set up, and overhead cost in your sub-assembly inventory items. You will also want to have a good understanding of your inventory holding cost. These will include storage costs (rent, insurance, utilities), employee costs (salaries of individuals who store and handle inventory), opportunity costs (investing in more profitable endeavors other than Inventory), depreciation costs, and ordering costs (including shipping fees, unexpected transportation costs, inspection fees and other expenses necessary to acquire inventory products).
Calculate the Inventory Turnover as cost of goods sold/average inventory. For this calculation, you can take the iss-so transactions from transactions by item, and the 'as of date' data from your inventory valuation.
You will get a more robust view of your SKUs by analyzing all of these aspects. And it will help you sort out what you should continue manufacturing and selling.
Step 5. Categorization
Once you have analyzed your SKUs and feel you have a clear idea of those worth keeping, categorize each into one of three categories:
A – products to keep
B – products to review
C – products to discontinue
While the action you should take with the A and C class items is clear, the B-category items are not. Keep the B-category items but re-analyze them more often than the A-category items. You do not want to eliminate underperforming products that your customer may still be consistently buying. You may drive those customers to another company that offers them what they need. Start with removing obsolete items and slowly move forward with the SKU rationalization. You should be able to identify these with one of the user-definable fields in the item master, or if your IT organization is skilled, you can add various fields for this process.
Step 6. Execute the SKU Rationalization Elimination of Inventory
Once you have determined the SKUs you want to eliminate from your catalog, you will need to exercise the specific transactions and activities that will credit inventory (eliminate) and debit the correct account on the financial side for your SKU Rationalization process.
The Discontinuance Process could involve:
Whatever barcode labeling application you use, consider a new or revised label for all potential products to be quarantined and eliminated.
You probably want to set up some new locations in your ERP's Location Maintenance menu. As far as transactions are concerned, you could go as far as restricting transactions within the location.
Move inventory restriction to a known status/location, if required.
Process any disposed of material as your usual production and shipping requirements dictate.
Identify the next custodian of the inventory.
Update quote and price data and the location of the eliminated SKUs.
Correct the routing for all eliminated SKU items.
You will need to document the proceedings for any audits that Accounting or Quality Control might need.
SKU Rationalization ERP Data
You can derive pretty much all the data needed for an SKU Rationalization project from your QAD operational data, along with prudent use of financial information from the GL. It may take some creative query or processes to extricate useable data.
Financial Impact
You will also want to consider the financial impact of SKU elimination. But, as they always say, you must have the project in place, in process, or completed to realize the financial impact. You'll reap the financial benefits of your SKU Rationalization project if your operational plan has been well thought out, analyzed, and executed.
Identify and track any disposal or inventory reclamation costs through your general ledger.
Repeat the SKU Rationalization Process Regularly
You should have a more focused and efficient business process after you have shed the extra fat from your product catalog and eliminated products from your inventory and operational processes. However, SKU Rationalization is a continuous process that allows you to analyze trends and review your SKUs periodically. Results of your process should lower operating costs and reduce inventory without revenue loss. Review the SKUs Rationalization every six months to a year to continually refresh and strengthen your business.
Conclusion
The SKU Rationalization project is one of those things in the supply chain that consumes a lot of planning and execution effort. Still, to remain competitive while having costs under control, you need to cull out items that are dragging the margin in the wrong direction. Please take time to address this critical aspect of the supply chain.
Don Lindsey, CFPIM, CIRM is a knowledgeable Implementation Project Manager, Trainer, and Business Analyst. He has been an implementation manager on several large, complex ERP projects, and has worked with the ERP systems since 2007 in Manufacturing, Systems Management, Service & Support, and Finance. Don has a diversified background in a wide variety of manufacturing industries from Medical to Electronics to Industrial to Consumer Products. He has spoken for many years at the APICS Conferences, having taught in the APIC Certification program at California State University at Fullerton for more than 20 years.