Here's our Webinar Lineup for Q1 2023
We've been busy planning webinar topics for Q1 2023 and have a great line-up for you! We're still firming a few things up so watch your inbox for more info or visit our webinar page. If you're not signed up to receive webinar invitations from us, you can join our mailing list in the upper right corner.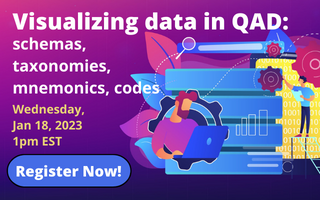 January 18, 2023
A schema is a cognitive framework or concept that helps organize and interpret information. Schemas and other recognition tools are used everywhere in QAD. Don Lindsey will help you understand how useful schemas can be and how to use them as guidelines when analyzing the vast amount of information in QAD.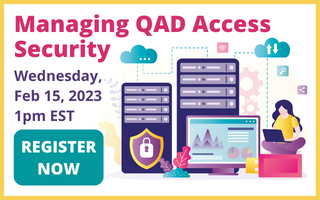 February 15, 2023
Maintaining tight data access security protects your organization's data, reputation, and bottom line. Neglecting it can lead to hefty financial penalties for SOX non-compliance.  In this webinar, Don Lindsey will discuss QAD's access security elements and demonstrate how our QAD User Security Management System (QUS) makes quick work of the processes.
For March, we're firming up plans for a Case Study you won't want to miss! We hope you can join us.