2018 Looks Rosy for IT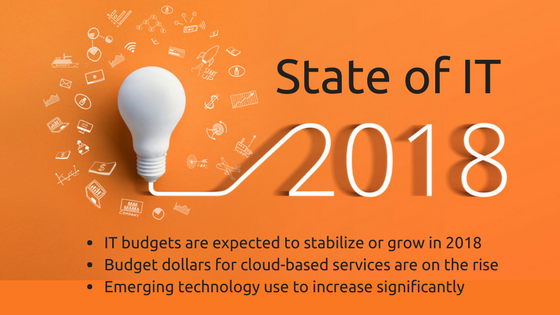 These are some of the critical findings of the 2018 STATE OF IT Report from Spiceworks. It looks like it will be a pivotal growth year for technology.
Budget Growth
Budget growth will lead to additional staffing over the next 12 months. Almost half (44%) of the companies surveyed expect their IT budgets to rise an average of 19%. Nearly the same amount (43%) expect them to remain the same.
Where will the extra dollars be spent?
31% hardware
26% software
21% hosted/cloud-based services
15% managed services
Staffing Growth
IT departments, particularly in larger companies, are expected to grow in size. 70% of enterprises with 5000+ employees say they'll increase their IT staff. More than 60% of companies with 500+ employees will hire more IT professionals.
Cloud Services Growth
While hardware and software will make up the most considerable part of the budget in 2018, hosted/cloud-based services are growing quickly. More businesses expect an increase in their cloud budget and a decrease in their hardware budget as compared to the previous year.
The top factors driving companies toward cloud services are:
42% providing access to data anywhere
38% enhancing disaster recovery capabilities
37% enabling better flexibility
36% reducing the support burden on IT staff
New Technology Growth
Adoption of new technologies has risen and is expected to grow significantly in the next 12 months.
Here's how the organizations surveyed reported their current use of new technologies.
29% have adopted IoT
18% have adopted VR
13% have adopted AI
In the coming 12 months, more companies are expected to implement these emerging tech trends.
19% plan to adopt IoT next year
14% plan to adopt VR next year
17% plan to adopt AI next year
You can read the full State of IT report at http://www.spiceworks.com/marketing/state-of-it/report/