2019 Was a Banner Year for our Webinars!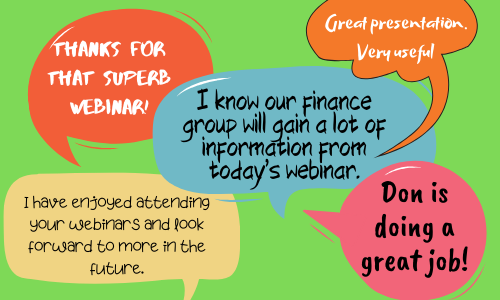 Here's what viewers of our 2019 webinars are saying!
Over the past 18 months, we've added a new dimension to our popular monthly webinars. While we still offer product demonstration webinars when we have a new solution or enhancement to announce, our webinars now mostly focus on education. They are designed to give you a better understanding of processes throughout your enterprise and how to get the most out of QAD.
Veteran QAD user and Manufacturing and Distribution expert Don Lindsey focuses on a particular aspect of QAD manufacturing and distribution in each webinar, giving real-life examples, information, formulas, and best practices.
Our webinar attendance continues to soar. 2019 saw an increase in webinar registration of more than 135%! And, our webinars continue to get rave reviews! Thanks for helping to make these webinars such a success.
We've got lots of topics lined up for 2020 including Inventory, Purchasing, Service Support, and more. If you haven't attended in the past, see for yourself what everyone's talking about. Don't Miss Out! You can see what all the talk is about by accessing all of the past webinar replays here. Look for the category titled Learning More About QAD.