Replenishment Workbench is powerful easy-to-use Excel tool, which significantly increases buyer's productivity managing QAD's Purchase Orders. It eliminates completely the need for manually creating large volume of purchase orders and notifying the suppliers. Buyers now can manage material purchases quickly and accurately from convenient Excel spreadsheet in real time.
Replenishment Workbench processes QAD MRP data suggesting what materials you need and when. The functionality allows you to download the volume MRP messages to convenient, easy to understand Excel spreadsheet for further analysis. Then, the program reads the records that you approve on the spreadsheet and massively produce and update material Purchase Orders (or Supplier Schedules). Then, Replenishment Workbench sends emails to suppliers automatically with the copies of purchase orders. All complexities are hidden behind the convenient Excel interface, but still you as a user have the full control and visibility.
Replenishment Workbench is equipped with drill down capabilities to various QAD reports and inquiries, so you as a user are well informed when deciding which MRP messages you should act upon. The drill downs include supplier master details, open orders, PO receipts, MRP recommended quantity to order, item usage over a few last months, etc. Traditionally, users have to run a few reports and then go through multiple maintenance screens creating or updating purchase orders in QAD. Replenishment Workbench eliminates the need for all these steps.
Replenishment Workbench is a powerful application for buyers, material planners to manage delivery performance from suppliers and to customers. Because of quick installation, user adoption, ease of use and the value it provides Replenishment Workbench is in good demand. Everyone who requested the trial ended up purchasing the software and using it daily.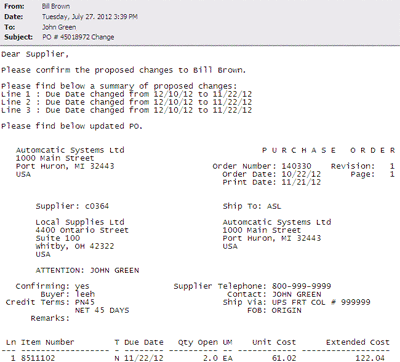 The image on the right shows sample email, generated by Replenishment WB program. The email notifies the supplier about changes in the existing PO. When new PO is created the email upper content informs the supplier that this is new PO. The program prints PO information directly to email message body in proportional font (similar to QAD reports). As you can see, there is no logo, fancy graphics, legal prints, etc. This is done on purpose such simplistic way, to ensure reliability of email processing and delivery. Also, no need opening/printing email attachments, i.e. saving some additional time for buyers and suppliers. It counts when dealing with large volume of purchases.
If your MRP data is not reliable enough – most likely you need to revise Item Master 1.4.1 and Item – Site 1.4.17 datasets in QAD. We do have such Excel Loaders available, which will help you greatly to review and update your Items parameters quickly.
Learn more about Excel Loaders for QAD.
Implementing Inter-site Product Replenishment with Excel Loaders.
For more details please contact us.