16.13.1
Launch Work Order BOM Data Loader
• Select the [SET UP] button



• Pop Up Window will be displayed showing available databases to select from.
• Highlight desired database and click on [SELECT] button
• Message will be displayed showing database selected. Click on [OK]
Input Work Order number in the top left of sheet.
Select the [DOWNLOAD] button.

• When Action buttons are selected for the first time, a Pop Up Window will be displayed for user log in. User ID is validated against QAD. Use QAD user ID and password.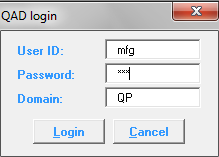 • Select [LOGIN] button to continue.
Please note: if provided credentials are incorrect or the user is not authorized to use menu 16.13.1 in QAD, the database connection will not be established and the QAD login window will keep coming back.
• Sheet will display current Work Order Bill. Message will indicate whether download successful or not.


Edit data
• Columns highlighted in green are editable fields and user can make changes as desired. Items can be removed or added to the Work Order Bill, Quantity can be changed:



• Delete items, add items, and adjust values for Qty as required.
Upload to QAD
• When review of data has been completed, select the [Update Bill] button



• A status window will be displayed indicating whether your upload is successful or not.
Verifying in QAD
• You can go in QAD and run 16.13.2 Work Order Bill Inquiry: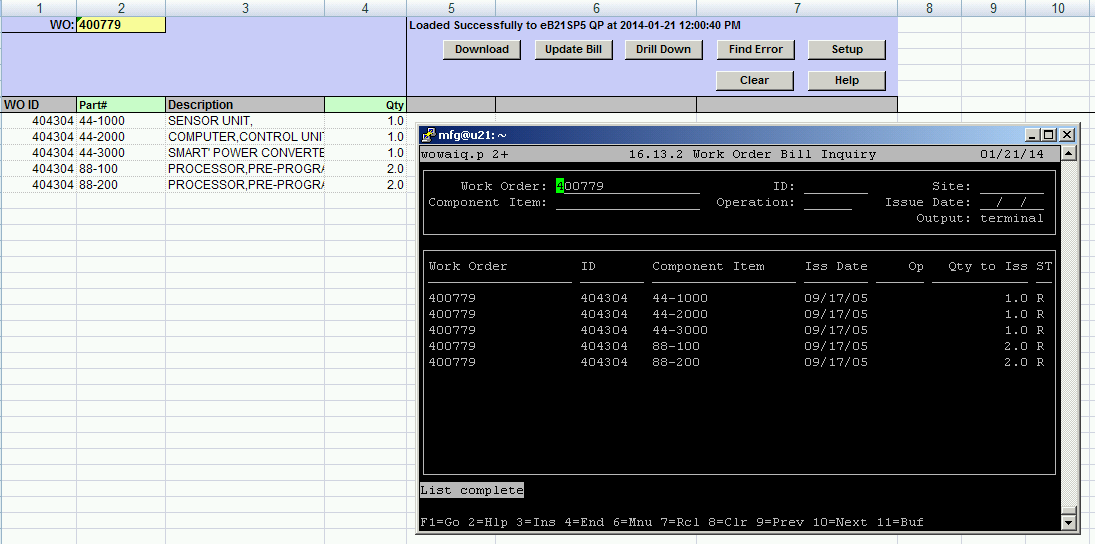 • You can also use the [Drill Down] to get a 16.13.3 Work Order Bill by Order Report: