This loader allows you to create and maintain supplier item data for large number of records for a range of suppliers. It is an efficient way to edit specific fields or create new supplier items.
1. Launch Supplier Item Loader:
• Select the [SET UP] button



• Pop Up Window will be displayed showing available databases to select from.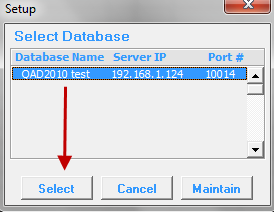 • Highlight desired database and click on [SELECT] button
• Message will be displayed showing database selected. Click on [OK]
2. Input search criteria in the yellow highlighted fields in top left of sheet.



Search parameters are available for the following fields:
• Supplier Number: this is for a range of supplier numbers. Enter desired supplier number. This is validated against Supplier Maintenance (2.3.1) in QAD.
• Item Number: this is for a range of item numbers. Enter desired item number or leave blank for all items for selected supplier. These numbers are validated against Item Master (1.4.1) in QAD.
3. Once Search parameters are entered, select the [DOWNLOAD] button.



• When Action buttons are selected for the first time, a Pop Up Window will be displayed for user log in. User ID is validated against QAD. Use QAD user ID and password.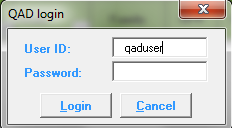 • Select [LOGIN] button to continue.
• Sheet will display data based on search criteria. Message will indicate whether download successful or not.



• Columns highlighted in green indicate that those fields can be edited by the user.
4. Creating new supplier item – if user wants to create a new supplier item, go to blank line and enter in mandatory fields (highlighted in green): item number, supplier number, UM, qty etc. All other fields are optional.


5. Updating supplier item details – user can change any of the fields in green highlighted columns.


6. Upload to QAD – when review of data has been completed, select the [UPLOAD] button



• A confirmation window pops up. Select [YES] or [NO]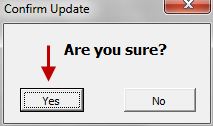 • A status window will be displayed indicating whether your upload is successful or not.


7. Error in upload – if there is an error in any of the fields, the upload will not be completed. The Status window will indicate that upload is unsuccessful and the field with error will be highlighted in red. Mouse over the cell and the error message will be displayed.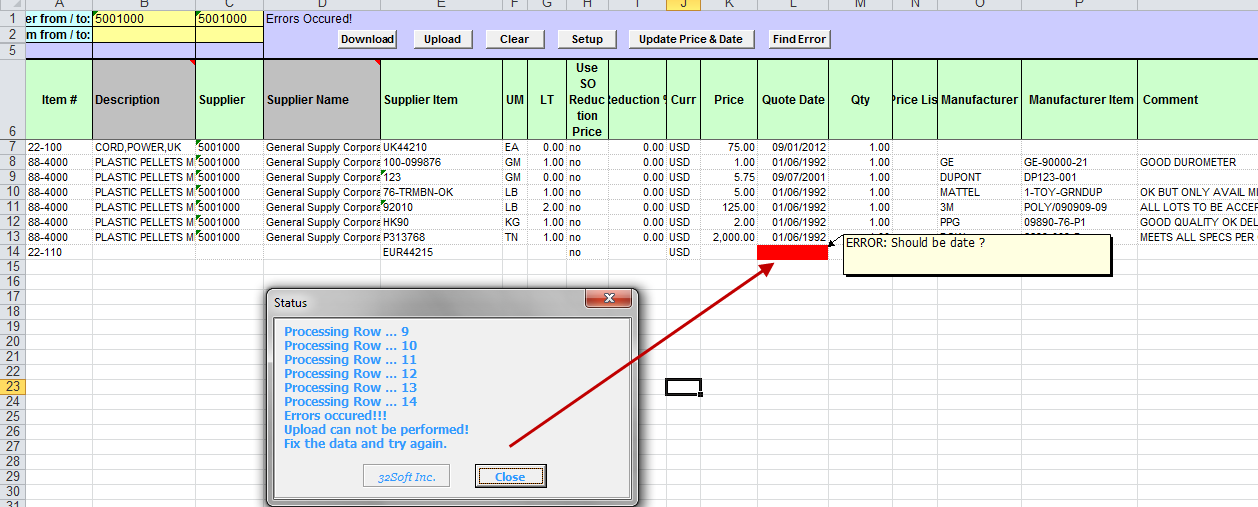 • You must fix the error before selecting the [UPLOAD] button again to submit to QAD.
8. Updating Price and date – if you just want to update price and date, make the necessary changes for the item and select the [UPDATE PRICE AND DATE] button


9. Verifying in QAD – as this is real time transaction, you can go into 1.19 Supplier Item Maintenance or 1.20 Supplier Item Inquiry to verify that change in supplier item details has been uploaded.