QAD accounting users, who process receivables, have to spend long hours manually keying checks into 27.6.4 menu and applying cash against corresponding AR references. The more sales volume, the more receivables you collect, the more bank deposit entries you have to key in to 27.6.4. These days companies in North America often use bank service called "Lockbox bank service".
Why Would You Use a Lockbox?
The main reason to consider lockbox services is speed and efficiency. Lockbox services get money into your bank account faster than you'd be able to do it yourself. Perhaps you could run to the bank every time you got a check, but you wouldn't be able to get much work done. More ….
We offer excel templates for automatic processing cash deposit data you receive securely from you bank. With just a couple of mouse clicks, you will process dozens, hundreds or thousands of records from Lockbox deposit file to 27.6.4 QAD menu, saving lots of man hours every day, week, month!
Convenience, easy workflow, complete visibility and control
By clicking "1.Open File" button the program presents deposit data from the lockbox file in the easy to read excel form.

Then, user clicks on "2.Validate" button and program matches and validates the lockbox data on the spreadsheet against QAD data. It looks up customer Bill-to numbers, invoice numbers and calculates totals for matched amount and presents variances if any.

In case a bill-to not found in QAD, you can click and view check image and then look up manually bill-to by name from the spreadsheet.

Simply type partial customer name and press "Look up Bill-to".

If invoice number can not be found in QAD

you can click on "Look-up Invoice" button to browse all open AR references for the customer account.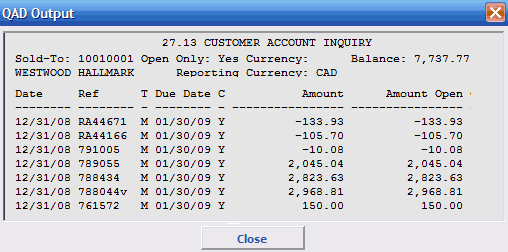 Then, by clicking on "Process" button the program safely submits bank deposit data to 27.6.4 menu within seconds. Then the program displays QAD AR batch number in the upper corner of the excel form and then you can print 27.6.6 Payment Register report by pressing a button in the excel. Optionally we can add a button for 27.19 report or any other QAD report / inquiry of your choice. So your staff will be as much productive as possible.
This is what customers say
This is to advise you that we recently had 32 Soft work on a software program to upload our Bank Deposit. The program they created was very user friendly and their method of teaching us the program was excellent. We found 32Soft to be very professional and competent in their business dealings with our company and we would have no hesitation in recommending their services.
Yetta Kay
Capital Safety
Contact us today to order a free trial.